14/6/2021
Editorial
<p>Before you start make sure you have the following to hand:</p> <ul> <li>Pension Reference Number </li> <li>National Insurance number</li> <li>Email address </li> </ul> <p>Then follow the steps below.<br> <br> </p> <ol> <li><strong>Visit any page of the member website - railwayspensions.co.uk</strong> <p>The site works well on most browsers but is not supported by Internet Explorer 11 or Android using IOS versions 10 and under.</p> <p><img src="https://cdn.rpmi.co.uk/mp-sitefinity-prod/images/default-source/default-album/rps-website.jpg?sfvrsn=88d07dda_2" data-displaymode="Original" alt="RPS website" title="RPS website"></p> <p>&nbsp;</p> </li> <li><strong>Look at the top right hand corner of your screen. </strong> <p>If you're on a desktop or laptop, click 'login/register'. </p> <p><img src="https://cdn.rpmi.co.uk/mp-sitefinity-prod/images/default-source/default-album/log-in-or-register.jpg?sfvrsn=c9962e19_2" data-displaymode="Original" alt="log in or register" title="log in or register"></p> <p>If you're on a tablet or phone, select 'menu.' Then login/register.</p> <p><img src="https://cdn.rpmi.co.uk/mp-sitefinity-prod/images/default-source/default-album/log-in-register-mobile.jpg?sfvrsn=25f02133_2" data-displaymode="Original" alt="log in register mobile" title="log in register mobile"></p> </li> <li><strong>Select create an account</strong></li> </ol> <p><img src="https://cdn.rpmi.co.uk/mp-sitefinity-prod/images/default-source/default-album/create-an-account.jpg?sfvrsn=288ff569_2" data-displaymode="Original" alt="create an account" title="create an account"></p> <p><strong>4. Fill in your pension reference number</strong></p> <p>You can find this on any recent letters we've sent you. It should be a series of nine numbers, followed by /00 or a series of letters, followed by a series of numbers.&nbsp;<br> <br> <img src="https://cdn.rpmi.co.uk/mp-sitefinity-prod/images/default-source/default-album/pension-reference-number.jpg?sfvrsn=ed13bf1b_2" data-displaymode="Original" alt="pension reference number" title="pension reference number"><br> <strong><br> </strong><strong>5.&nbsp;Add your National Insurance number<br> <br> <img src="https://cdn.rpmi.co.uk/mp-sitefinity-prod/images/default-source/default-album/national-insurance-number.jpg?sfvrsn=d5087c91_2" data-displaymode="Original" alt="national insurance number" title="national insurance number"></strong></p> <p><strong>6. Enter your date of birth<br> <br> <img src="https://cdn.rpmi.co.uk/mp-sitefinity-prod/images/default-source/default-album/date-of-birth.jpg?sfvrsn=5035a485_2" data-displaymode="Original" alt="date of birth" title="date of birth"></strong></p> <p><strong>7. Enter your personal email address</strong> </p> <p>You will need to re-enter it in the box underneath just to make sure we've got it right </p> <p><img src="https://cdn.rpmi.co.uk/mp-sitefinity-prod/images/default-source/default-album/email-address.jpg?sfvrsn=21456b76_2" data-displaymode="Original" alt="email address" title="email address"></p> <p><strong>8. Create a password</strong></p> <p>This must be between 8 and 20 characters long. And contain at least:</p> <ul> <li>1 upper case letter</li> <li>1 lower case letter</li> <li>1 number</li> <li>1 special character or symbol</li> </ul> <img src="https://cdn.rpmi.co.uk/mp-sitefinity-prod/images/default-source/default-album/password.jpg?sfvrsn=4df1910_2" data-displaymode="Original" alt="password" title="password"><br> <p>You will see green ticks displayed when you have met all of these requirements</p> <p><img src="https://cdn.rpmi.co.uk/mp-sitefinity-prod/images/default-source/default-album/password-again.jpg?sfvrsn=695cdc64_2" data-displaymode="Original" alt="password again" title="password again"><br> <br> </p> <p><strong>9. Choose a security question from the drop down menu</strong> </p> <p><img src="https://cdn.rpmi.co.uk/mp-sitefinity-prod/images/default-source/default-album/security-question.jpg?sfvrsn=1e1e160c_2" data-displaymode="Original" alt="security question" title="security question"></p> <p><strong>10. Type your answer to the security question</strong> <strong>in the box where requested</strong> </p> <p><img src="https://cdn.rpmi.co.uk/mp-sitefinity-prod/images/default-source/default-album/security-answer.jpg?sfvrsn=1b9c4d14_2" data-displaymode="Original" alt="security answer" title="security answer"></p> <p><strong>11. Read the terms and conditions. Then tick the box to confirm you have done so</strong> </p> <p><img src="https://cdn.rpmi.co.uk/mp-sitefinity-prod/images/default-source/default-album/terms-and-conditions.jpg?sfvrsn=6a60bea6_2" data-displaymode="Original" alt="terms and conditions" title="terms and conditions"></p> <p><strong>&nbsp;12.&nbsp;Select 'register now'</strong></p> <p><img src="https://cdn.rpmi.co.uk/mp-sitefinity-prod/images/default-source/default-album/register-now.jpg?sfvrsn=30fa2406_2" data-displaymode="Original" alt="register now" title="register now"></p> <p><strong>13. Check your email.</strong></p> <p>You should have received an email to the email address you entered when registering. This confirms that your registration has been successful. It may be in your spam/junk folder rather than your inbox. </p> <p><img src="https://cdn.rpmi.co.uk/mp-sitefinity-prod/images/default-source/default-album/check-your-email.jpg?sfvrsn=b11dd4e2_2" data-displaymode="Original" alt="check your email" title="check your email"></p> <p><strong>14. Click the link in the email asking you to verify your account.</strong></p> <p><strong>15. The link will take you back to the RPS website</strong>. <strong>You will then need to re-enter the email address and password you used to register.</strong></p> <p><img src="https://cdn.rpmi.co.uk/mp-sitefinity-prod/images/default-source/default-album/login-again.jpg?sfvrsn=caacb456_2" data-displaymode="Original" alt="login again" title="login again"><br> <br> <strong>16. Select log in to myRPS<br> <br> <img src="https://cdn.rpmi.co.uk/mp-sitefinity-prod/images/default-source/default-album/select-login.jpg?sfvrsn=2837cfb5_2" data-displaymode="Original" alt="select login" title="select login"><br> </strong></p> <p><strong>17. Add a final piece of memorable information</strong></p> <p>For added security, you'll use this together with your password each time you log in. It should be at least 8 characters in length and be easy for you to remember. </p> <p><img src="https://cdn.rpmi.co.uk/mp-sitefinity-prod/images/default-source/default-album/create-memorable-information.jpg?sfvrsn=5699eff1_2" data-displaymode="Original" alt="create memorable information" title="create memorable information"></p> <p><strong>18. Select create memorable information.</strong></p> <p><img src="https://cdn.rpmi.co.uk/mp-sitefinity-prod/images/default-source/default-album/click-create-memorable-information.jpg?sfvrsn=fde22575_2" data-displaymode="Original" alt="click create memorable information" title="click create memorable information"></p> <p><strong>19. You should then be taken to your myRPS dashboard. And you're all done.</strong> </p> <p><img src="https://cdn.rpmi.co.uk/mp-sitefinity-prod/images/default-source/default-album/myrps-dashboard.jpg?sfvrsn=fc2992da_2" data-displaymode="Original" alt="myRPS dashboard" title="myRPS dashboard"></p> <p>To log back in at any time, simply </p> <ul> <li>visit the website</li> <li>select login/register on a laptop or desktop or menu on a mobile </li> <li>re-enter your email address, password and memorable information</li> </ul> <p>You can see a short video of these steps<a href="https://member.railwayspensions.co.uk/register"> here</a></p> <p>You can also find video other video guides for using the website <a href="https://member.railwayspensions.co.uk/resources/video-library/how-to-use-this-website ">here</a></p> <p>This includes: </p> <ul> <li>How to request an estimate&nbsp;</li> <li>How to nominate</li> <li>How to switch investment funds</li> <li>How to use the DC retirement modeller</li> </ul> And read more about what you can do online in the news story <a href="https://member.railwayspensions.co.uk/resources/news/2021/06/14/log-in-and-leap-into-the-future ">here&nbsp;&nbsp;</a> <p>&nbsp;</p>
How to set up your myRPS account online
To set up your myRPS account online, you may need to register on our new website. You may also need to re-register even if you were signed up to the old site. Here's how to do it.
Before you start make sure you have the following to hand:
Pension Reference Number
National Insurance number
Email address
Then follow the steps below.


Visit any page of the member website - railwayspensions.co.uk

The site works well on most browsers but is not supported by Internet Explorer 11 or Android using IOS versions 10 and under.

Look at the top right hand corner of your screen.

If you're on a desktop or laptop, click 'login/register'.

If you're on a tablet or phone, select 'menu.' Then login/register.

Select create an account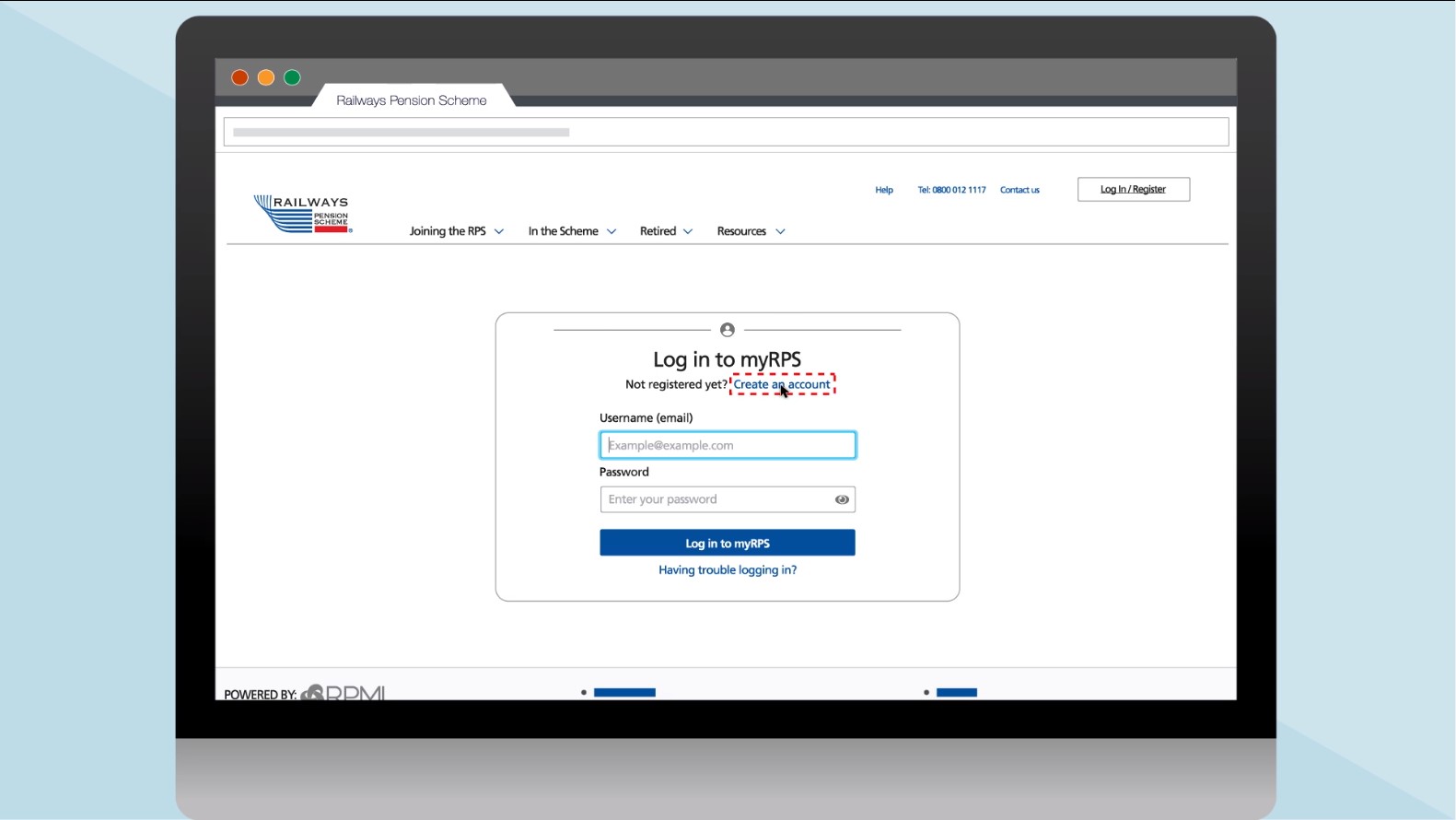 4. Fill in your pension reference number
You can find this on any recent letters we've sent you. It should be a series of nine numbers, followed by /00 or a series of letters, followed by a series of numbers.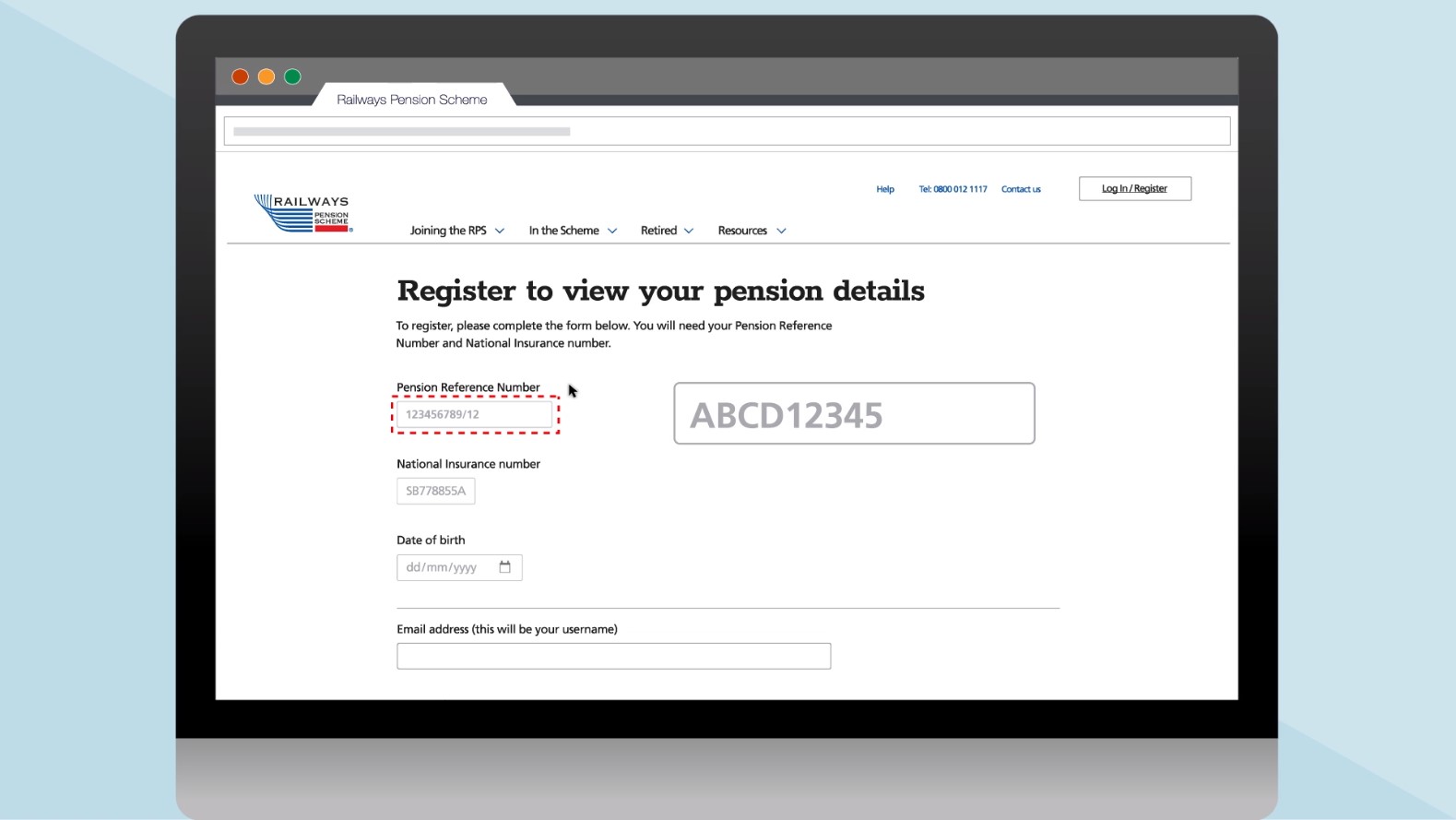 5. Add your National Insurance number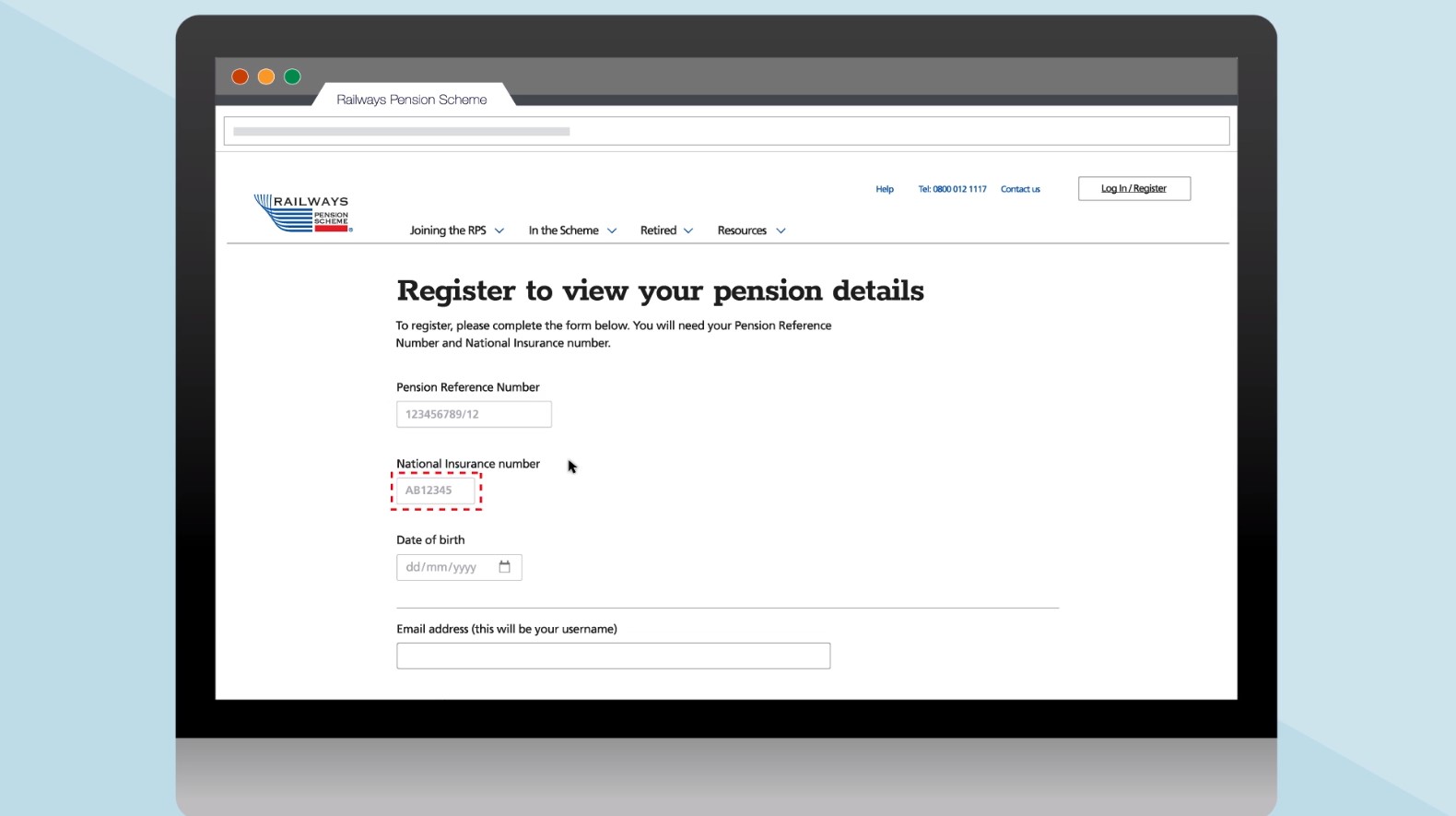 6. Enter your date of birth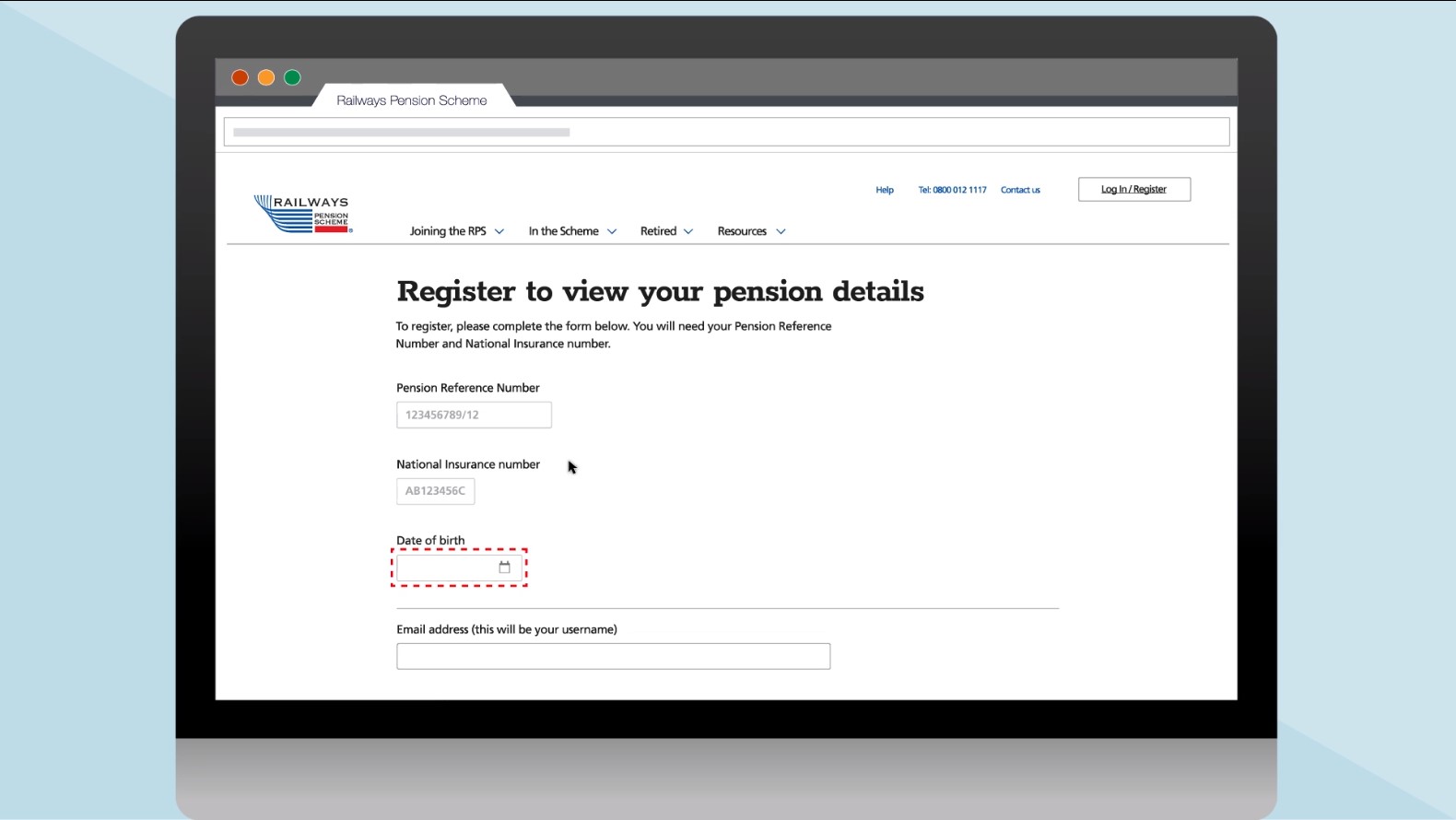 7. Enter your personal email address
You will need to re-enter it in the box underneath just to make sure we've got it right
8. Create a password
This must be between 8 and 20 characters long. And contain at least:
1 upper case letter
1 lower case letter
1 number
1 special character or symbol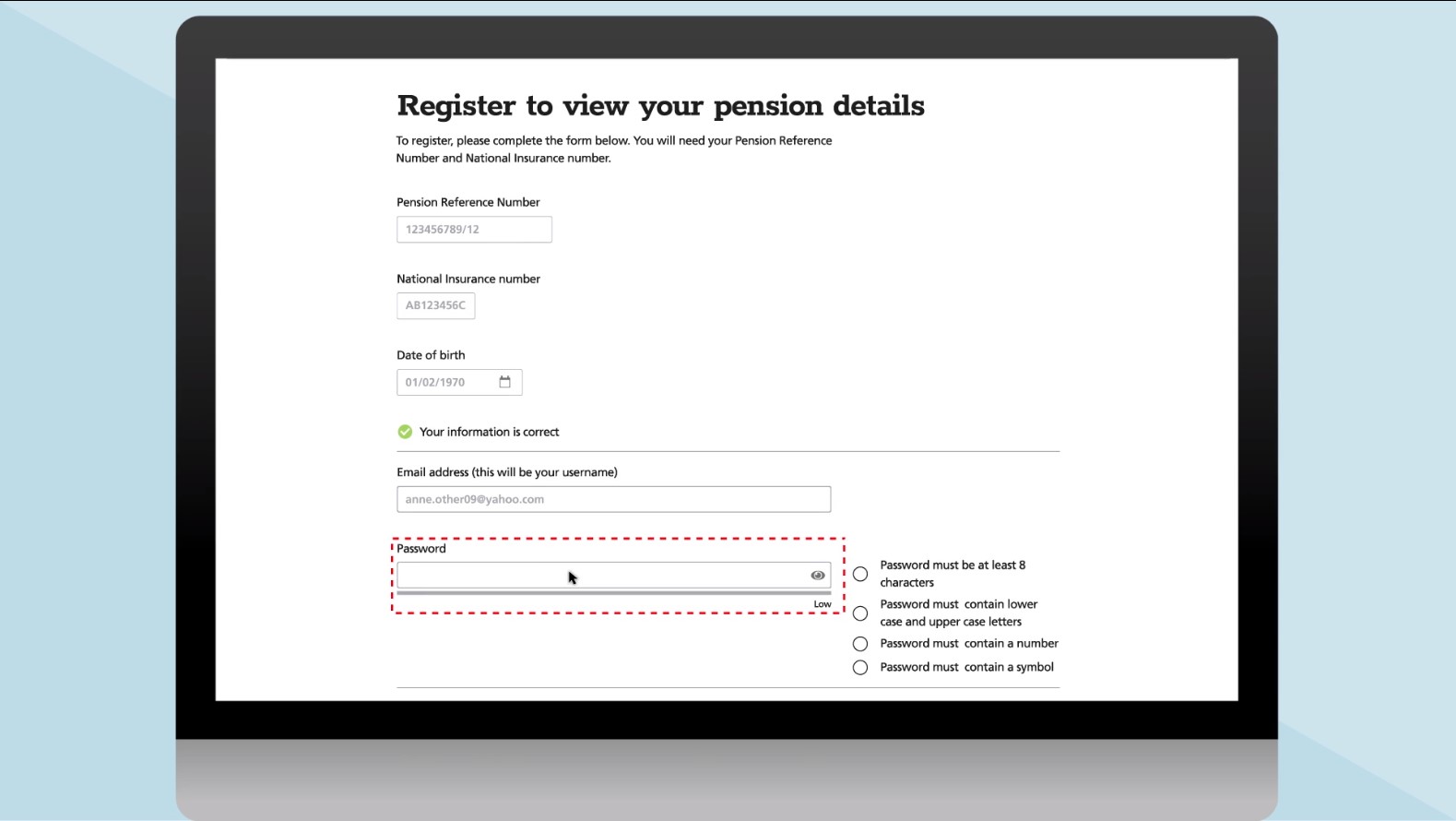 You will see green ticks displayed when you have met all of these requirements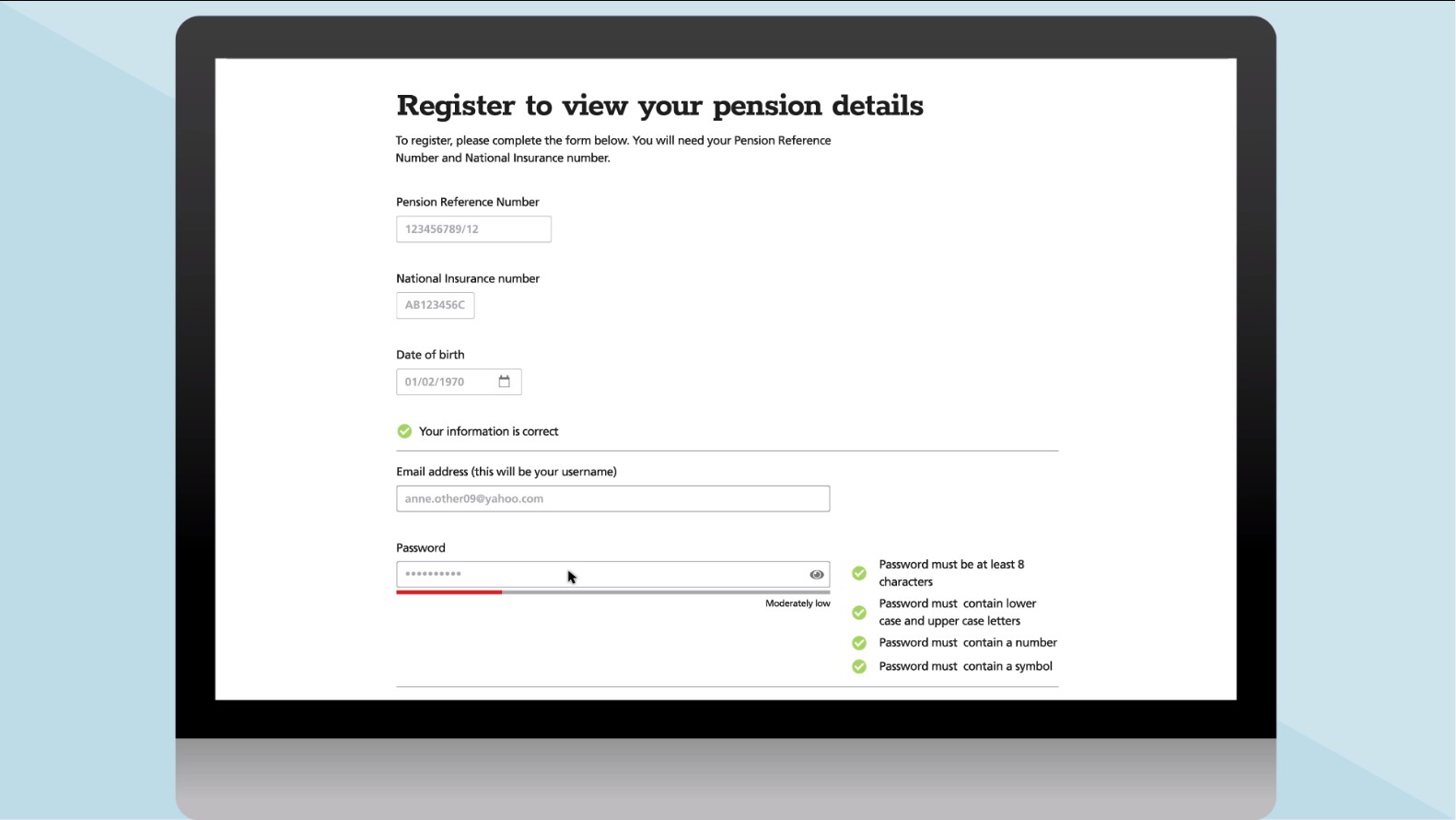 9. Choose a security question from the drop down menu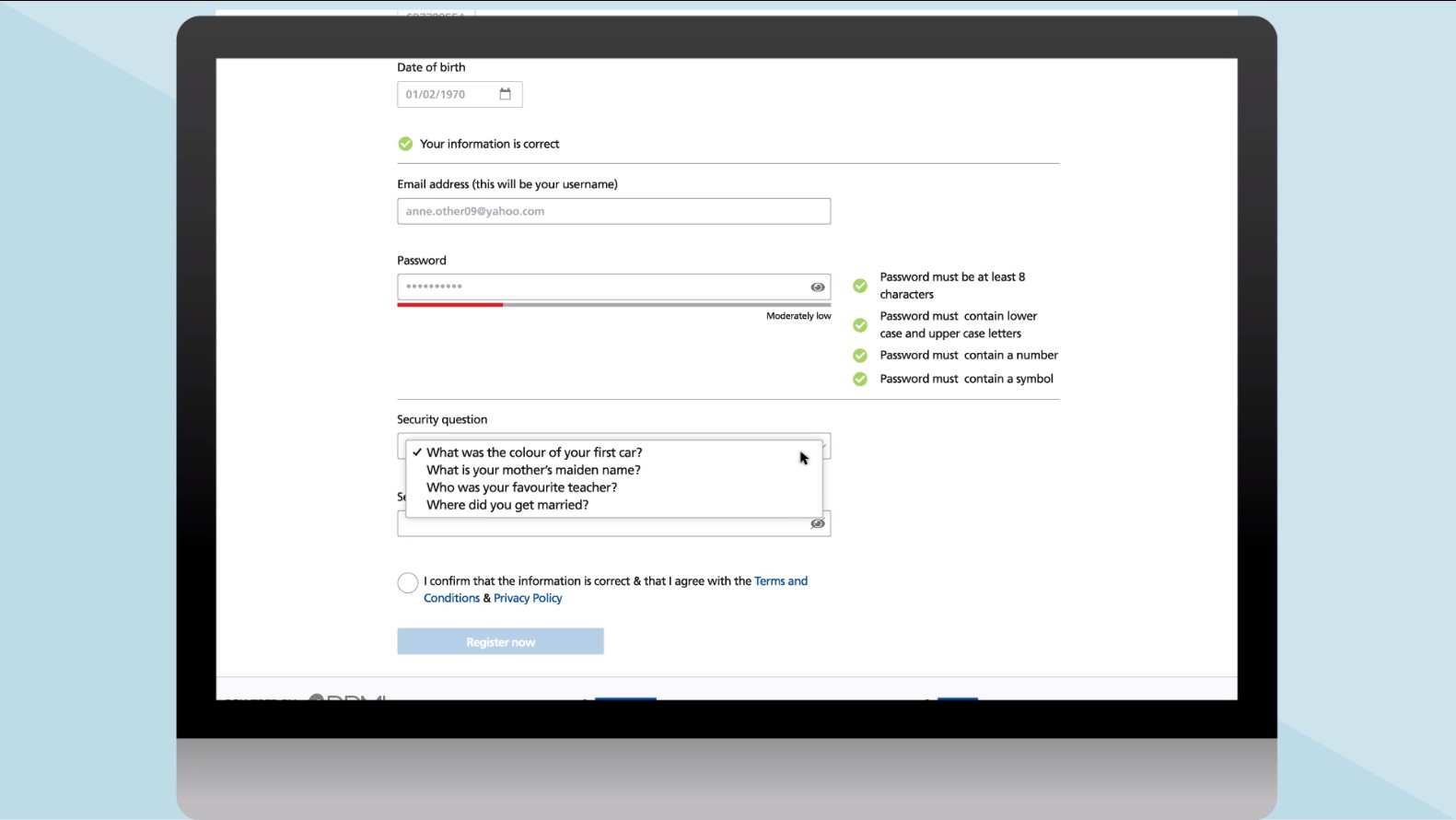 10. Type your answer to the security question in the box where requested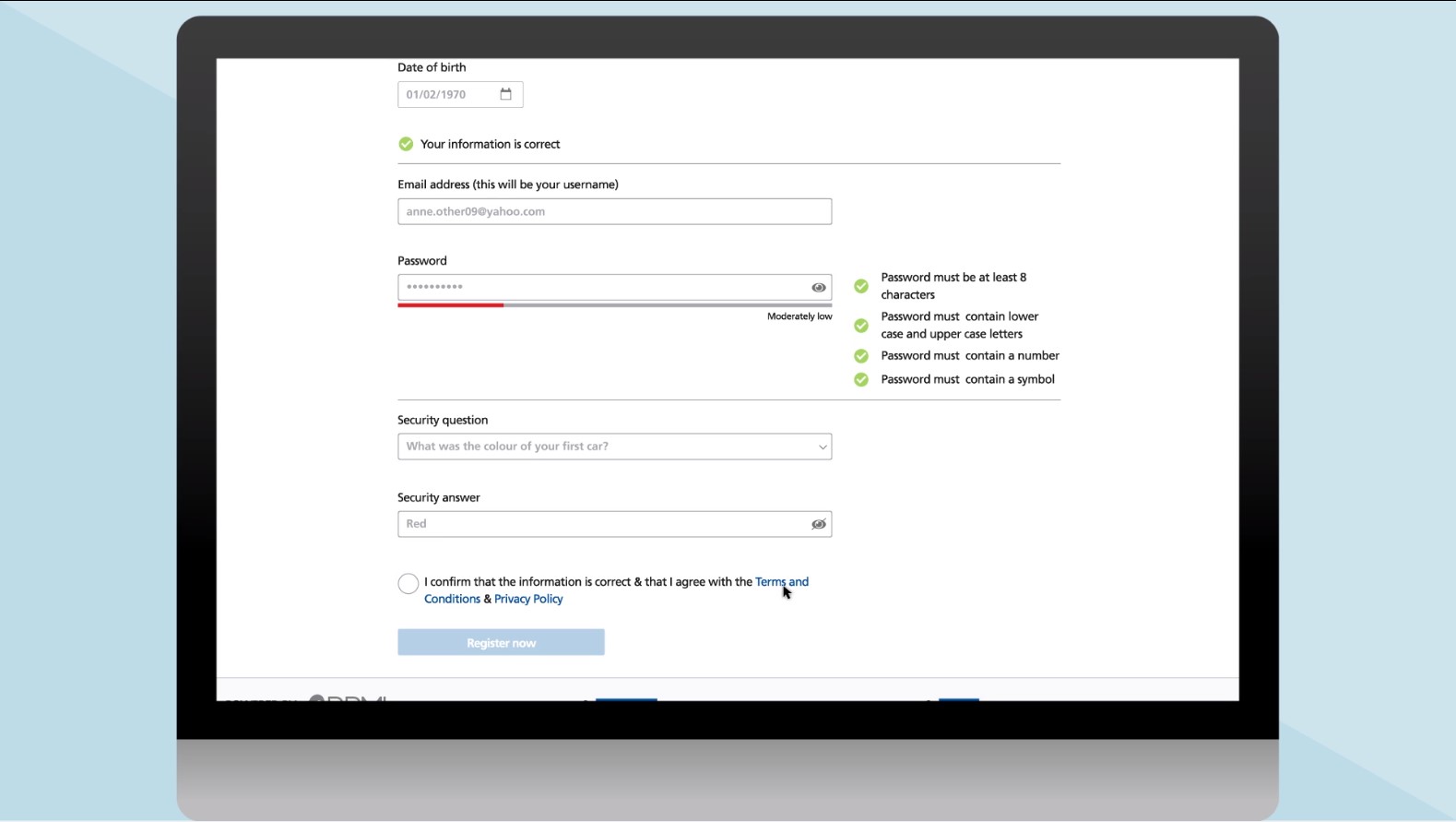 11. Read the terms and conditions. Then tick the box to confirm you have done so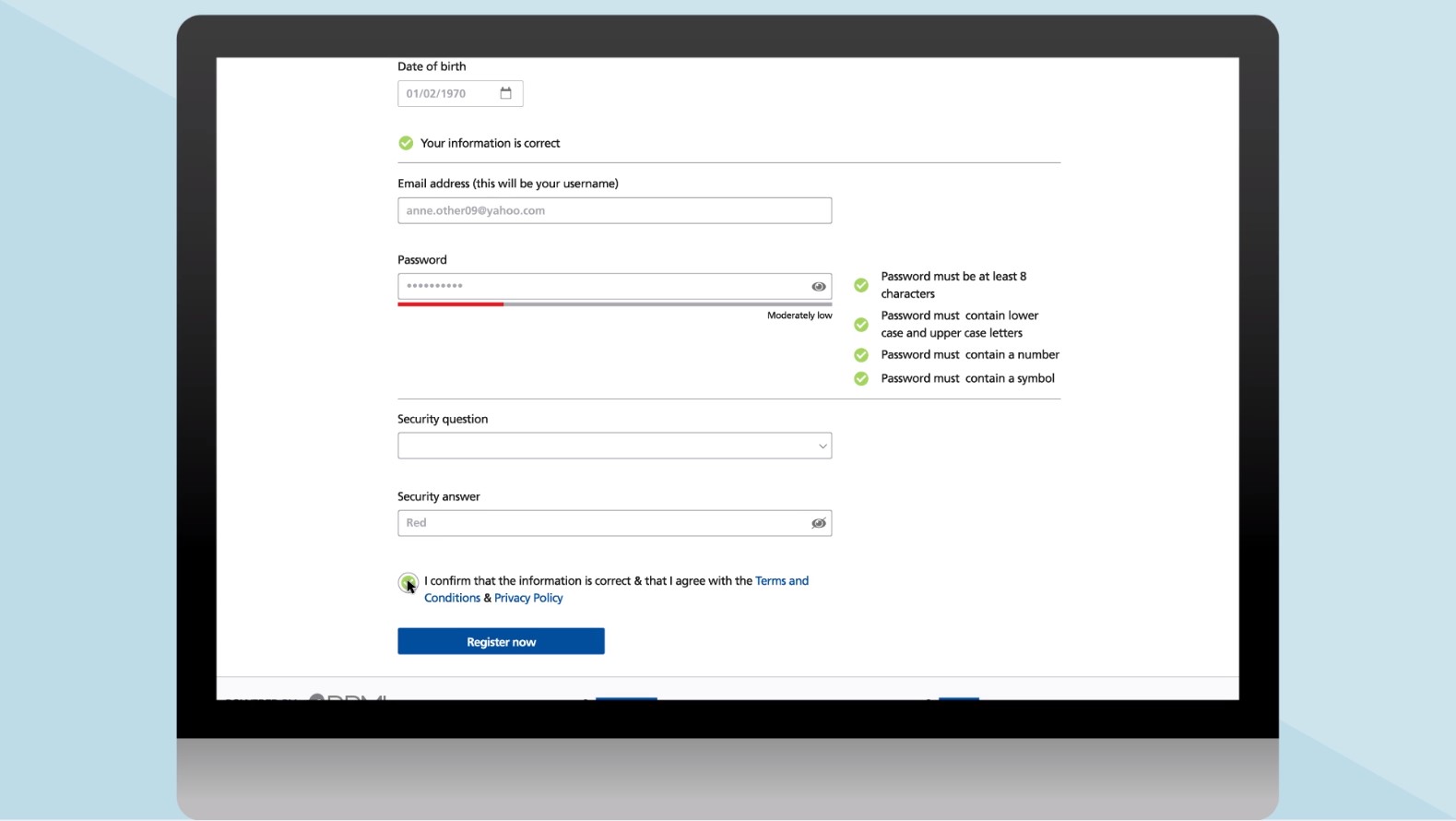 12. Select 'register now'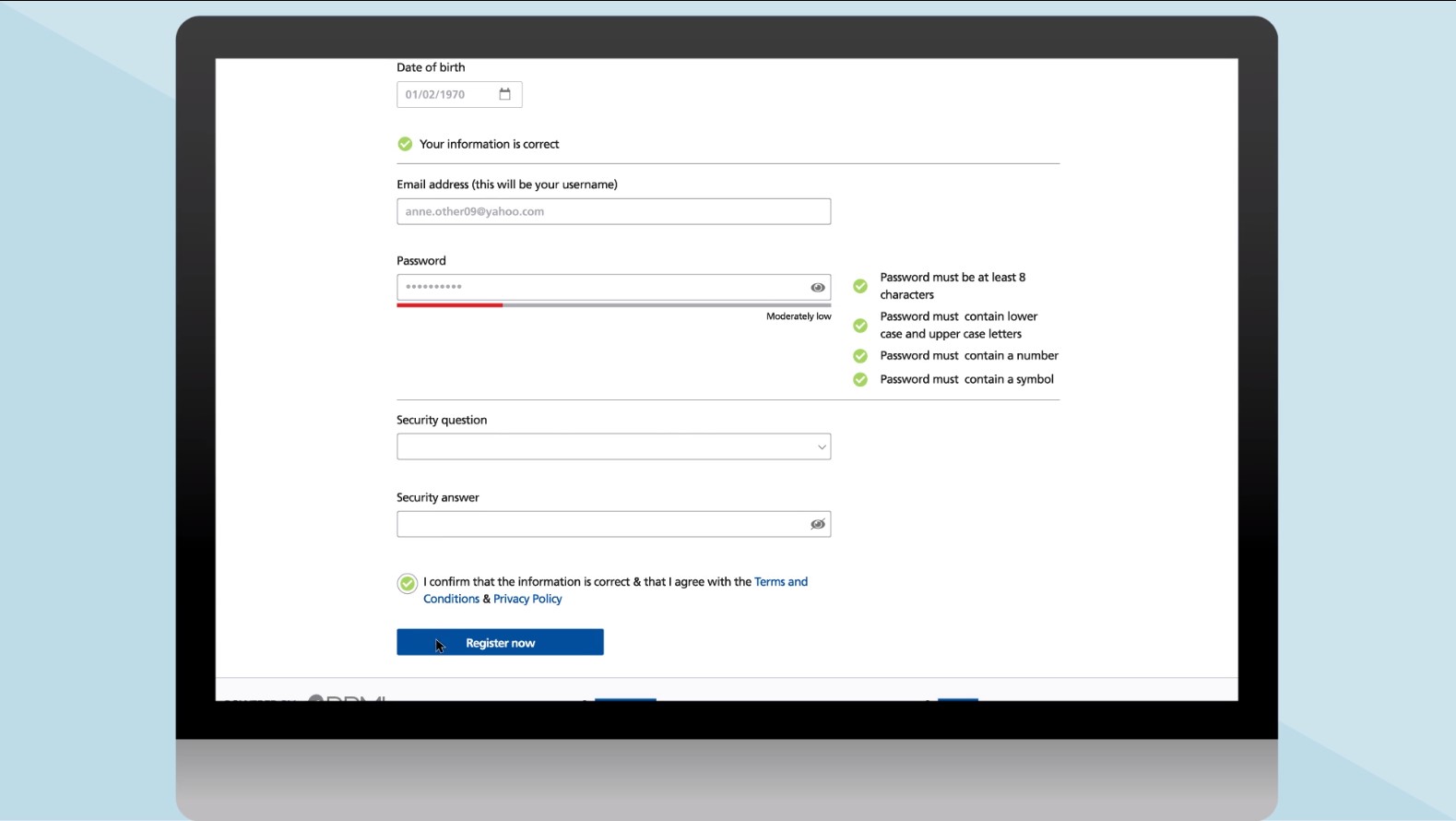 13. Check your email.
You should have received an email to the email address you entered when registering. This confirms that your registration has been successful. It may be in your spam/junk folder rather than your inbox.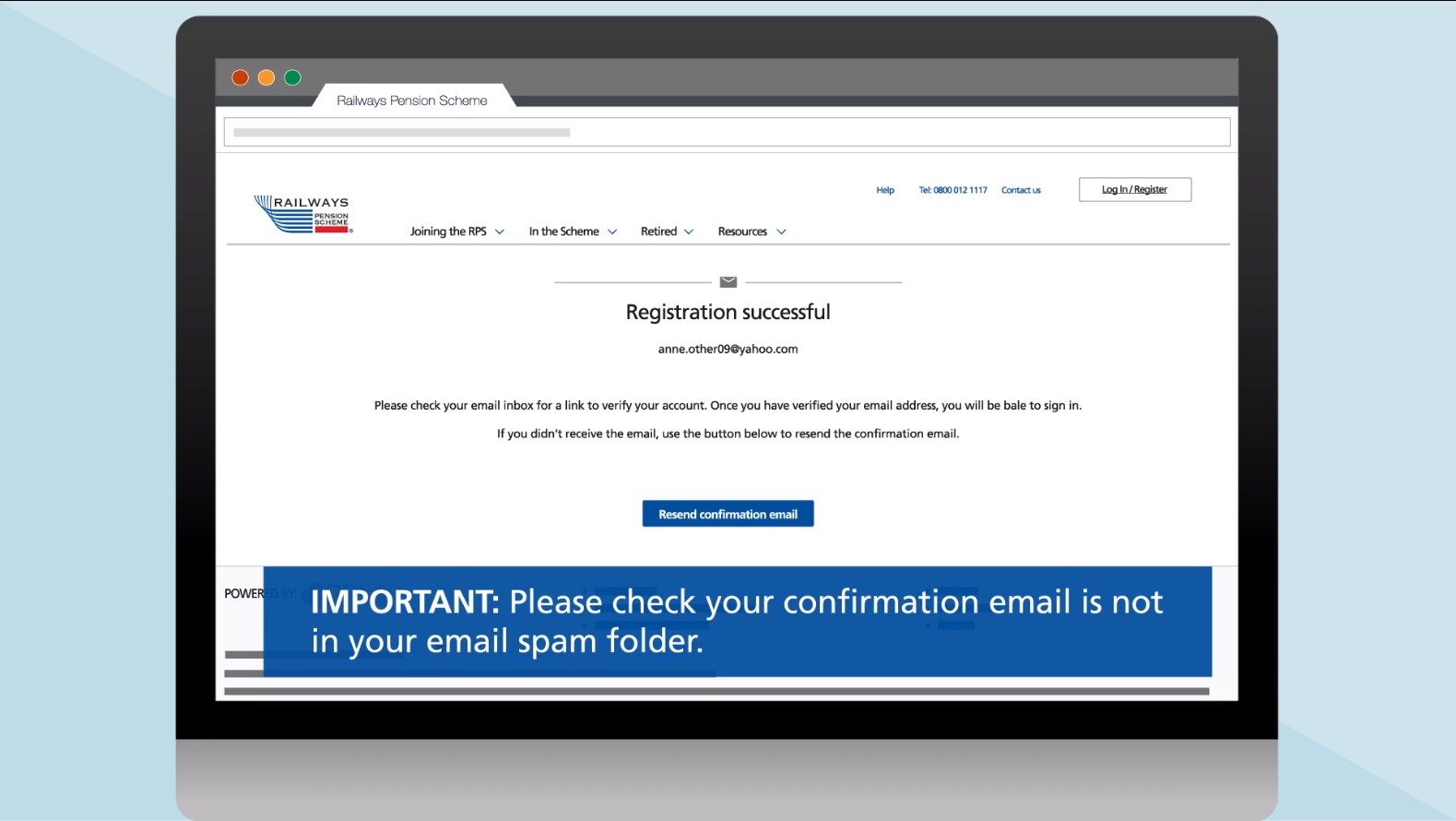 14. Click the link in the email asking you to verify your account.
15. The link will take you back to the RPS website. You will then need to re-enter the email address and password you used to register.


16. Select log in to myRPS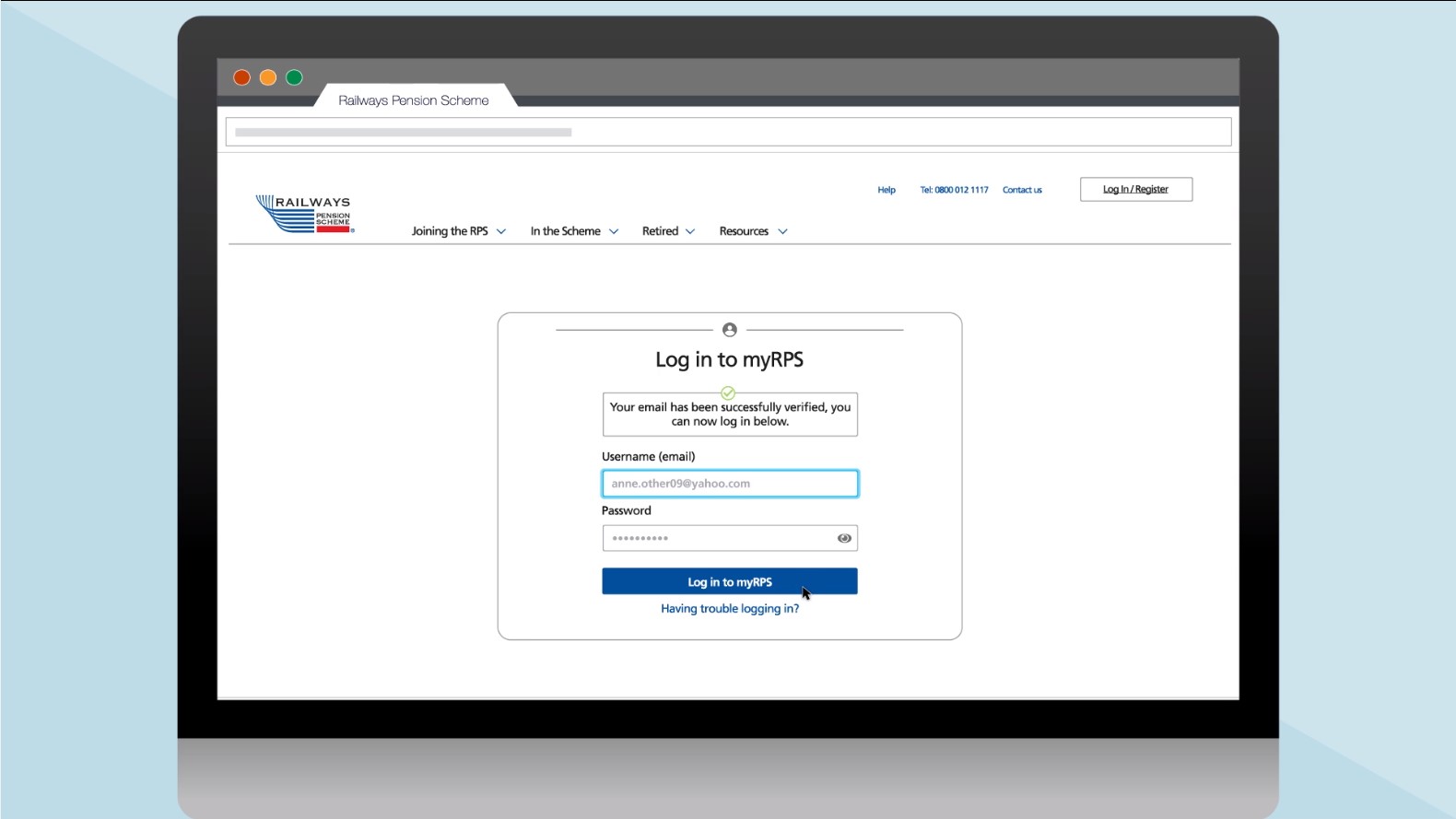 17. Add a final piece of memorable information
For added security, you'll use this together with your password each time you log in. It should be at least 8 characters in length and be easy for you to remember.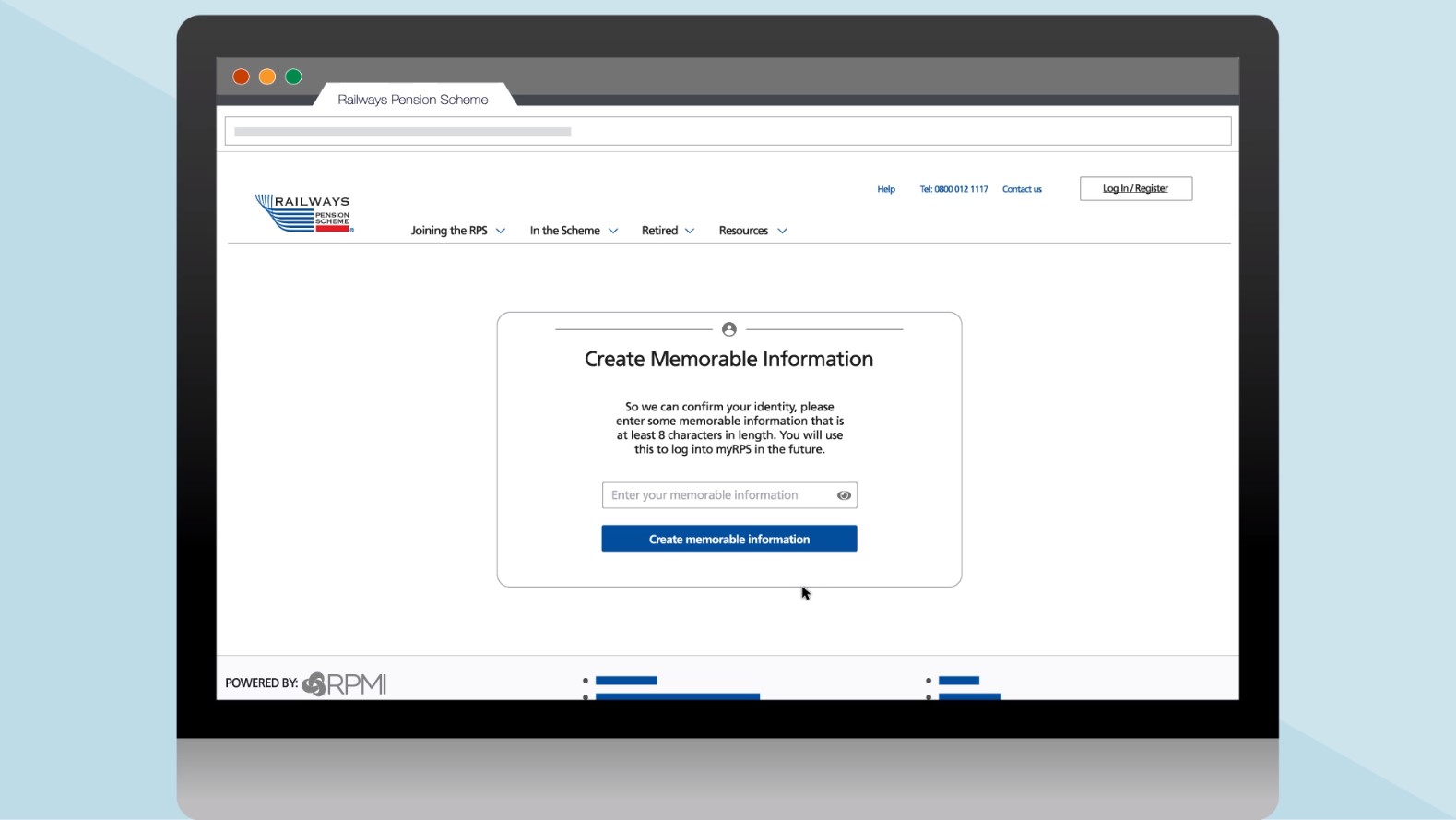 18. Select create memorable information.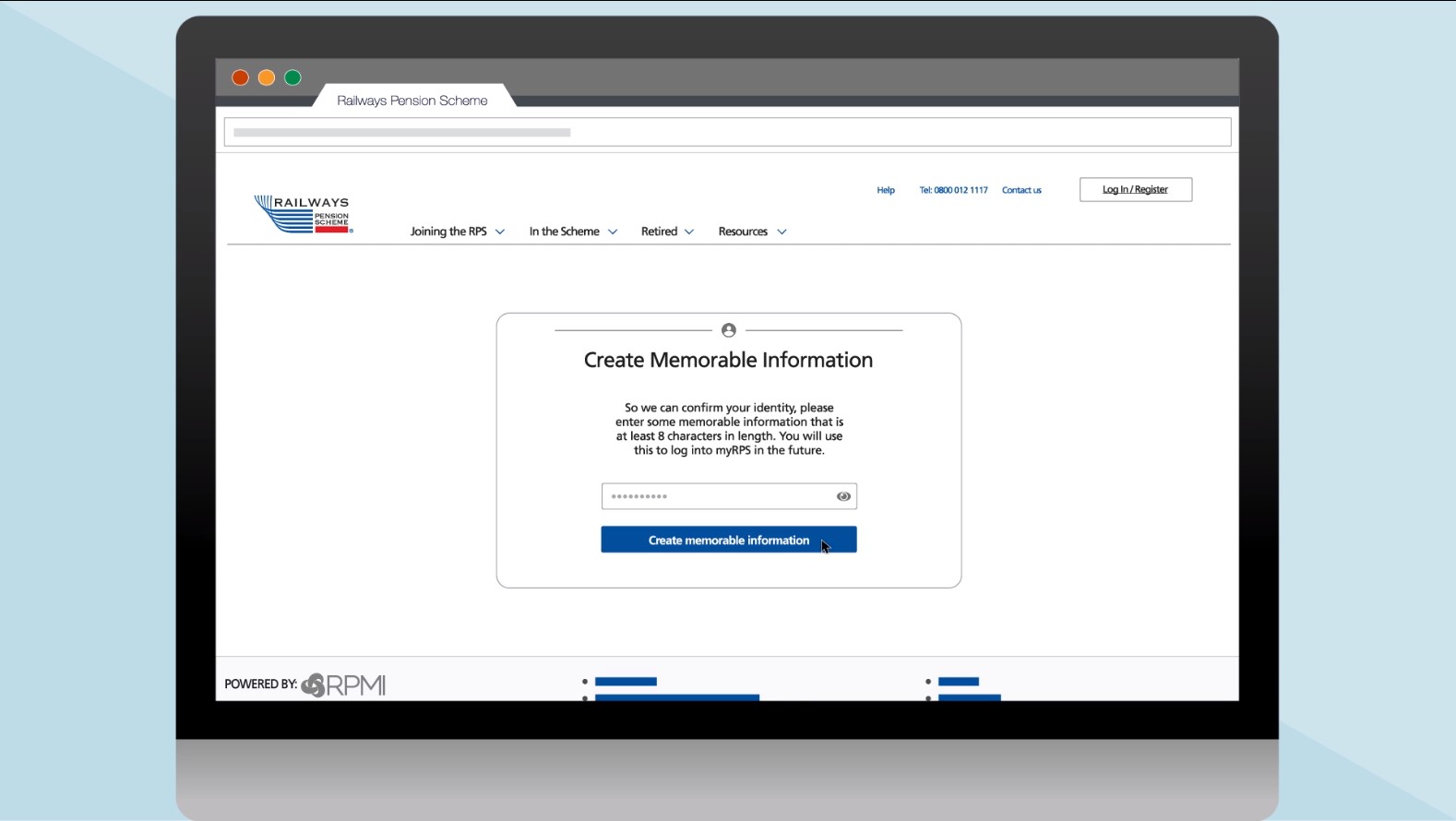 19. You should then be taken to your myRPS dashboard. And you're all done.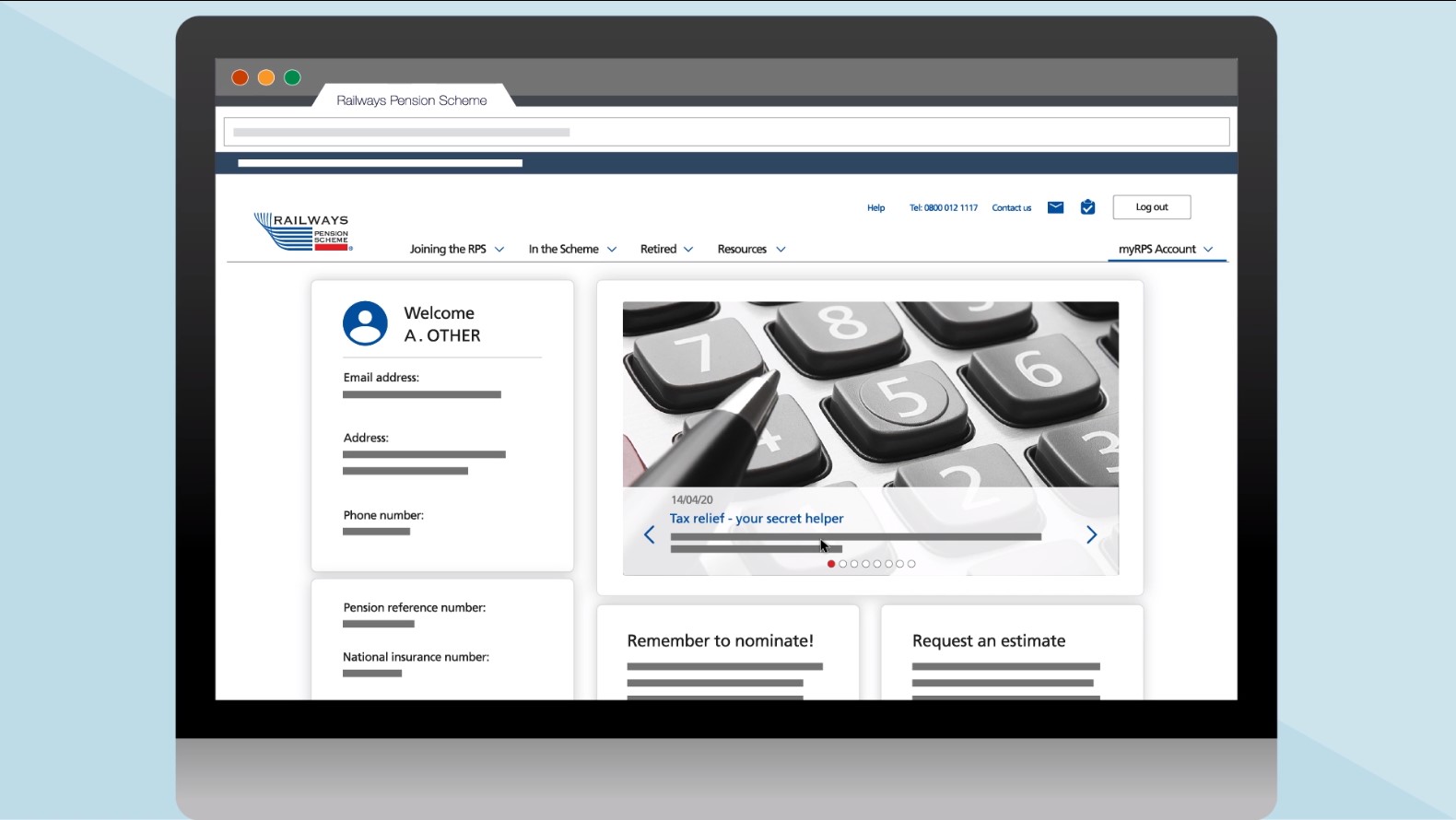 To log back in at any time, simply
visit the website
select login/register on a laptop or desktop or menu on a mobile
re-enter your email address, password and memorable information
You can see a short video of these steps here
You can also find video other video guides for using the website here
This includes:
How to request an estimate
How to nominate
How to switch investment funds
How to use the DC retirement modeller
And read more about what you can do online in the news story
here